Between the lush green mountains, swaying coconut palm trees, and the shimmering blue water, Snake Island is one of the most unique destinations in El Nido.
Despite its name, there aren't any snakes living on the island! Instead, the island is named after the long, snake-like sandbar strip that connects two sides of this arch-shaped island.
Once you arrive, you'll be immediately enticed by the stunning scenery and contrasting landscapes of this tropical island.
---
*When looking for the best price and biggest selection of hotels in El Nido check prices on Booking.com, we've found they are the best option and have a great cancelation policy.*
Recommended Hotel in El Nido – Cuna Hotel
---

How to get to Snake Island El Nido
If you're starting from El Nido, you can reach Snake Island by boat. It's one of the furthest destinations in Bacuit Bay and takes roughly 40 minutes to reach. You can either rent a private boat or take the island-hopping tour B to visit Snake Island.
What El Nido Tours go to Snake Island
To make the most of your time in El Nido, we recommend visiting Snake Island on an island-hopping tour. They take care of transportation to Snake Island (as well as several other spots in Bacuit Bay) and provide lunch.
Related Article: Best Restaurants in El Nido
---

El Nido Island Hopping Tour B
Many people that visit El Nido join tour A or C tour, which covers the main attractions in Bacuit Bay. Although the B tour is less popular, it's one of the only ways to visit the stunning Snake Island. It also gives you the opportunity to see other popular beach towns in the Philippines.
Once you arrive on Snake Island, you'll have a few hours to explore the area at your own pace. Ideally, you'll want to visit during low-tide, where you can walk along the sandbar from one side of the island to the other. Most tours also set up lunch here.
Other stops on the tour include Entalula Beach and Pinagbuyutan Island. These are great places for swimming, snorkeling, or simply lounging around in the sun.
Tour B is also unique because you get to stop at two different caves. Cudugnon Cave is the smaller of the two and requires you to crawl through a small crevice in the rock to enter the opening. Cathedral Cave is larger and has giant stalactites and stalagmites protruding from every angle. You can explore the cave by swimming, snorkeling, or by kayak.
---

Things to do on Snake Island
To many visitors, Snake Island is the highlight of their island-hopping tour. Not only is it one of the coolest and most unique landscapes in Bacuit Bay, but it's also a great place to soak in those tropical island vibes.
1. Walk Across the Sandbar
The most popular thing to do on Snake Island is to walk across the sandbar that connects the two sides of the island. Most tours come during low tide, which is when you'll have the best chance to see the strip.
With the lapping blue waves on either side of you, you'll feel like you're standing in the middle of your very own secluded beach! It's also easy to spot tons of starfish hanging out in the shallow waves.
You can also come when the water is higher, but you should be prepared to get wet. The water during high tide is waist-deep, so you can still make your way to the other smaller island if you swim. Even at high tide, Snake Island is still a beautiful slice of paradise that you won't want to miss on your tour around El Nido.
Related Article: Top Things to do in the Palawan
---
2. Swimming and snorkeling at Snake Island
The main draw to Sanke Island is the thin sandbar, but the water surrounding the island is crystal clear with some shallow reefs to explore. We would recommend bringing a pair of water shoes for this stop because all around the island, and especially where the boats anchor, it's rocky and you can easily cut your feet up.
---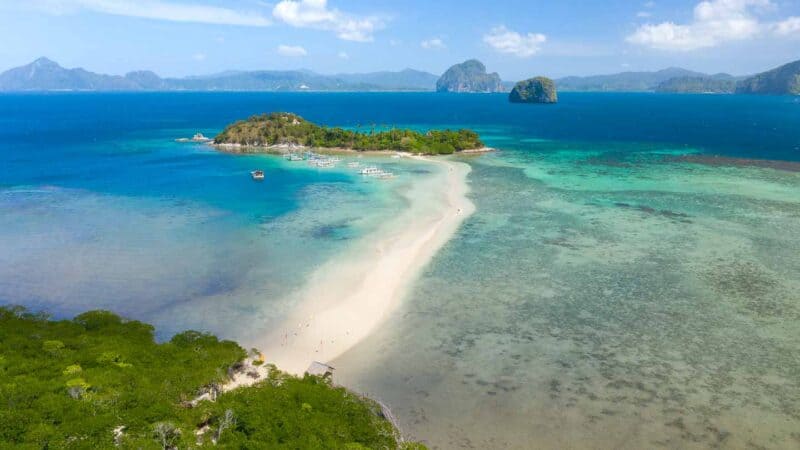 3. Hike to the Viewpoint
Once you cross the sandbar, you'll be at the base of a small hill surrounded by mangrove forests. If you choose to make the short trek up the hill, you'll be rewarded with panoramic views of the entire island and sandbar strip. This stunning photo op gives you 360-degree views of nothing but lush foliage and blue water. On a clear day, you can also see El Nido from afar.
Although the hike is relatively easy, beware of the monkeys that live along the trails. They may seem friendly, but they are quite territorial and can be dangerous if approached.
---
4. Relax with a Drink
If you need refreshments, you can stop at the small cocktail bar in the middle of the sandbar. This floating bar is run by a local couple that lives on the island and sells everything from ice-cold beer to fresh coconuts.
Grab a drink, relax on a hammock, or dip your toes in the cool, refreshing water. Make sure to bring pesos, as they only accept cash.
---
Photos of Snake Island El Nido
---
Everything you need to know before you go to Siargao Island. Here's our guide to this little piece of paradise called Siargao!
Updated Travel Guide to El Nido Palawan from real travelers that have done everything in El Nido from best day trips to restaurants
Looking for picturesque islands in the Palawan? Head to Coron. Guide: where to eat, things to do in Coron, where to stay in Coron, travel to
Don't Forget to pin me for later!