Our bamboo baby clothing journey started when my son's eczema wouldn't go away and was waking him up at night. We would watch the baby monitor and catch him scratching himself so much that he would wake up.
We had been working with a dermatologist for him since he was three months, and he had been to an allergist to see if he was allergic to anything. Sure, hydrocortisone would make it look better for a day or two, and then it would be back. We weren't fans of using prescription creams all the time and knew there had to be something else.
We asked our dermatologist what else we could try. She suggested trying eczema pajamas (don't waste your money on these) or bamboo baby clothing as it is breathable and super soft. We purchased our first bamboo pajamas for our son in October 2020, and we haven't regretted one dollar spent on bamboo clothing.
We own bamboo baby clothes from all the brands below and will be adding them to the list as we try out new brands. Here are some of the best bamboo baby clothes brands on the market.
*Bamboo baby clothing isn't just for children with eczema, it's super soft and breathable. It's great for all ages and adults, we even have bamboo sheets on our bed and adult bamboo joggers from Cozy Earth. Click here for 40% off using code STAMPED40.*
---
Best Bamboo Baby Clothing Brands
I suggest buying one piece from a brand and seeing how it fits your baby and what you think of the quality. I wouldn't buy a ton in one brand at once. I buy from several brands because they all make such different prints, and I take advantage of the sales when they have them.
Again bamboo baby clothes are not cheap, BUT there are sales throughout the year at brands and boutiques that I take advantage of and size up.
1. Kyte Baby
Kyte Baby was my first ever bamboo pajama purchase. All of our bamboo crib sheets and changing pads are from Kyte as well.
Most people first purchase from Kyte for their sleep sacks. What is a sleep sack, you ask? It's basically a wearable sleeping bag for your child. Sleep sacks are much safer than having a blanket in the crib. Atlas wears one to bed every night (he has since six months old, and he is now almost three years old). We own six Kyte sleep sacks for him. Why six? Well, we have two in each TOG rating. See below for the TOG rating system.
Their designs are a little more basic and not as busy as most of the other brands. Most of the prints are on white and not super busy prints, which I like. They don't realize new designs/products every week like some brands.
They offer blankets in the following sizes: swaddle, baby, toddler, and adult. We have a bunch of bamboo swaddles, each kid has one toddler bamboo blanket, and we have one baby blanket ( I wouldn't buy the baby size again it's too small). We don't have an adult Kyte bamboo blanket yet.
Sales – Kyte sales happen twice a year, Black Friday and July (this year it was August).
Adult lounge & sets available, not necessarily family matching, slings, bibs, hats, and more.
2. Little Sleepies
I just really started buying Little Sleepies when our daughter Isla was born. They sell bamboo baby clothing in premmie, but not many brands do. Little Sleepies lasts forever too. The feet & hands fold over so they can last longer. Our daughter was born at 6lbs 5oz, and she just turned two months old, and she is still in her premmie size.
I really like their adult pajamas too. Stay tuned for our family photo in our matching Christmas pajamas.
Little Sleepies Promo Code Use code GETTINGSTAMPED for 15% off your order
Sales – They have items on sale all the time, but their big sale is during Black Friday.
Little Sleepies nickname in the bamboo world: LS
3. Angel Dear
I bought a bunch of Angel Dear on Zullily before our daughter was born. I am talking like 17 bamboo baby pajamas (ranging in sizes from newborn to 12 months) for just over $200. They were around $10-15 apiece, which is crazy cheap for bamboo pajamas.
So far, I only have girl pieces from them, and I am really liking them. My daughter has the most newborn bamboo pajamas in Angel Dear, and she has had a good amount of blowouts in them all, and I have been able to get them out using Puracy stain remover. They have washed and held up great. I can't wait until she fits into more pieces!
UPDATE: I have since gotten a ton of Angel Dear boy pajamas too. Often on sale for $10-15, and I love them. They wash great, are soft, and have cute prints. I also added several of their two-piece outfits with pants & shirt and super cute bamboo shorts.
4. RAGS to Raches
If I had an unlimited budget, I would own more RAGS to Raches. I have found some of the best deals on Amazon here. RAGS make the coolest boy's clothing. It's super trendy and cute, in my opinion. They also make fun girl clothes. It's on the edgier side. I love their daytime outfits. They are super trendy.
Not everything they sell is bamboo, so make sure you look at the product details and the fabric content.
5. Posh Peanut
Posh Peanut has some of the cutest designs, especially for girls. Since I just had my daughter, my Posh Peanut collection has been growing FAST! Posh Peanut has several sales (often on short notice), and small boutiques often have Posh Peanut bamboo pieces on sale.
They also have a ton of cute boy prints too. Their designs are more detailed/patterned. They are way different than Kyte.
We also love Posh Peanut sleep sacks, swaddles, and blankets. I personally prefer the adult loungewear over Luxe loungewear. The Luxe is much looser, and I prefer the look and fit of the standard loungewear.
Sales – They have items on sale all the time and have sales throughout the year.
Posh Peanut's nickname in the bamboo world: PP
Posh Peanut has matching family bamboo pajamas too, swimsuits, robes, and more.
6. Sweet Bamboo
I personally only have daytime wear items from Sweet Bamboo. I like their cute rompers for both girls and boys. I recently took advantage of their BOGO sale, so each item was only $10. Sweet Bamboo is also on Zulily at times. My first Sweet Bamboo item was from Zulily, actually.
They also sell full/queen bamboo sheets for those older kids not in a crib. They always have items on sale too!
7. Muse Threads
Another favorite of mine that has super vibrant prints is Muse Threads. They have both boy & girl outfits and things for the parents too. I always love buying a matching pair of PJs!
Another bamboo product I highly suggest is bamboo sheets. Muse Treads makes really good bamboo crib sheets too.
Related – The Carseat that will change your life! Carseat & Stroller in One
8. Little Bum Bums
I like all the tropical prints from Little Bum Bums. I have several flamingoes and tropical leave prints from Little Bum Bums in pajamas, twirls, and matching bows.
UPDATE: The zippers seem to go sideways and are hard to zip up. I have stopped by this brand as I prefer the top three brands.
Click here for current sale items
Sales – They have items on sale all the time, but their big sale is during Black Friday.
Little Baby Bums nickname in the bamboo world: LBB
9. Spearmint Love
I stumbled upon Spearmint Love when looking for cat bamboo prints. Yes, I am a cat lady. I found them! They were even on sale for $19, winning! I am not a snap pajama person, zippers for life in this family, but I actually don't mind their snaps.
Related Article – Is the $1,800 SNOO Bassinet Really Worth It?
10. Birdie Bean
I only have one piece from Birdie Bean, the Junk Food zipper pajamas in 2T. I got a really good price on them at an online boutique. I will for sure be watching out for more sales from them. My toddler is a mess, and these wash great!
11. Kate Quinn
Katee Quinn sells some bamboo baby clothes, but most of her items are organic cotton. When shopping on their site, make sure to shop by fabric if you only want to see bamboo items.
Kate Quinn has some of the best sales and you cheapest bamboo baby clothes you will find, and it's cute! They usually have max amounts of types of items you can purchase, so make sure to pay attention to that when ordering, or they will cancel the order.
My biggest complaint with Kate Quinn is that shipping takes forever, like several weeks. Usually, they will let you know it might take some time, but no one really expects it to take nearly a week.
Here is our detailed guide on how to get a free breast pump through insurance. It's crazy easy and only takes a minute!
12. KicKee Pants
KicKee Pants was the second bamboo baby pajama I bought for my son. I just got a pair on Amazon. They run a little smaller, and the toddler bamboo footie pajamas are tighter than some brands. I only have one pair from them because I am just not in love with their designs.
Related Article: Must Have Baby Registry Items 2022
---

Other Baby Bamboo Brands
There are tons of new children's bamboo brands popping up every month. I haven't tried these brands yet so I can't really say how there are as far as quality, how they wash, how they feel, price point, any sales, etc.
Make sure to look a the product details because not all products the vendors sell are bamboo.
Caden Lane
Milkbarn
Lark Adventurewear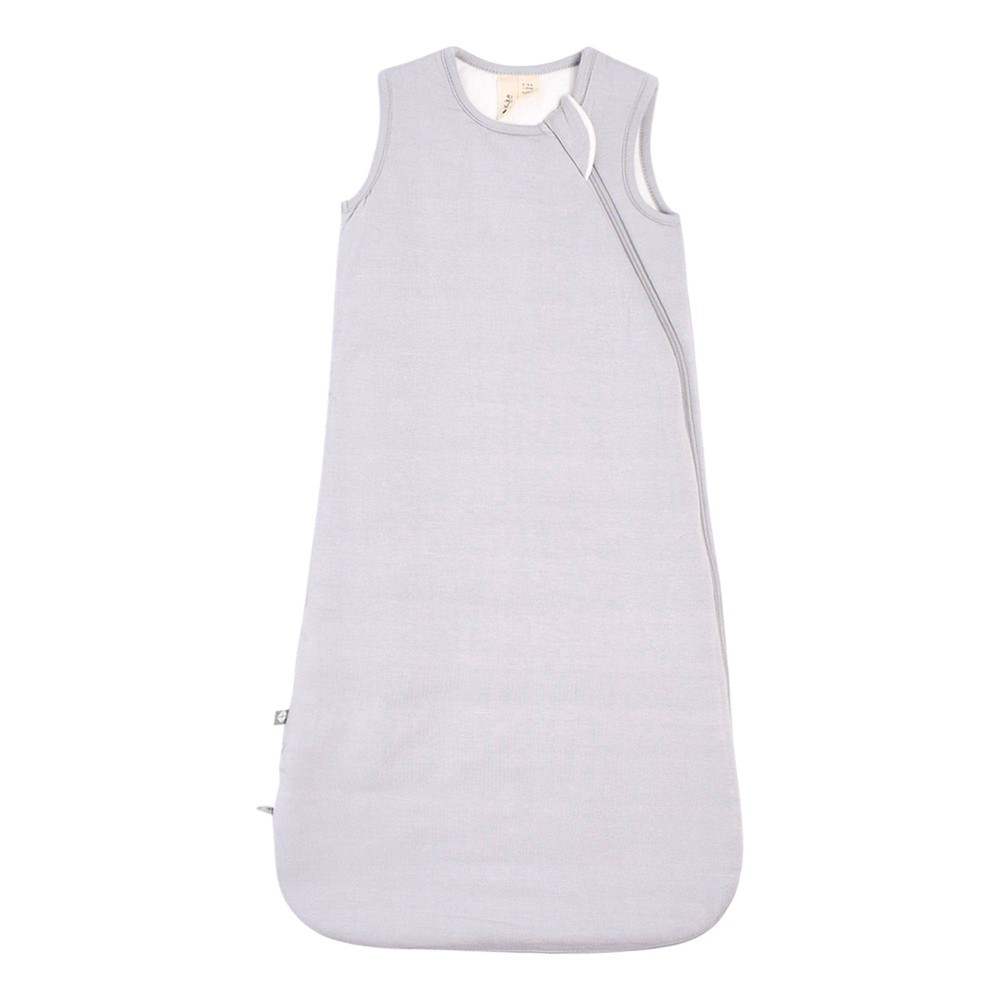 TOG Rating System for Bamboo Sleep Sacks
Bamboo sleep sacks are sold in different TOG ratings. TOG is a system that measures warmth, and it calculates how fast a fabric uses heat. When choosing which bamboo sleep sack is right for you, you'll want to purchase it based on the temperature in your child's room.
We own two sleep sacks in each TOG rating. Because we live in Wisconsin, we have two bags for the winter months, two for spring and fall, and then two for the hot summer months or when we travel somewhere warm.
Several brands sell sleep sacks. We only have Kyte and Posh Peanut brand sleep sacks.
0.5 TOG: 23 – 26 °C / 74 – 78 °F
1.0 TOG: 21 – 23 °C / 69 – 73 °F
2.5 TOG: 16 – 20 °C / 61 – 68 °F
How to Wash Bamboo Clothes
The best way to maintain the softness of bamboo fabrics is to wash them in cold water with free & clear laundry detergent on a gentle cycle (ex. delicates). Don't use too much detergent, I like to add an extra rinse cycle, not necessary. It's also better to do bamboo-only loads. I was my bamboo sheets with other bamboo clothes.
Hang to dry or lay flat to dry. I am guilty of throwing it in the dryer often because I don't have the patience for it to dr. If you do dry bamboo, make sure to use a low heat setting.
These are the laundry products we use when washing bamboo clothes:
Things we tried for baby eczema before switching to bamboo baby clothes
Hydrocortisone 2.5% (helps, but I didn't want to put it on every day) – prescribed
Hydroxyzine syrup – prescribed
Mupirocin 2% ointment – prescribed
Tubby Todd all over ointment – it did an okay job but not for the price
Mustela Stelatopia skin-soothing pajamas for baby eczema – didn't work at all and were hard to get on and off, and very expensive
Other Recommended Items that helped our child with Eczema – We still use these