It's no wonder Bacalar earned the Pueblo Magico designation, awarded to just a handful of cities in Mexico every year. Cenote Cocalitos is just one of the captivating cenotes that has helped it earn this illustrious title.
A visit here is sure to convince anyone of Bacalar's other apt moniker – the Maldives of Mexico.
2023 UPDATE – Google and reviews are saying the Cenote Cocalitos Beach Resort is closed. We will update this if they reopen.
---
Cenote Cocalitos Stromatolites (Estromatolitos)
Cenote Cocalitos is well known as the sanctuary of stromatolites. This refers to flat and circular stone-like formations that are made by bacteria. They are a very delicate natural phenomenon that takes hundreds of years to grow. As such, it's important not to touch them or stand on them when admiring their immense beauty here.
Widely considered some of the oldest living things on Earth, they can only be found in a few places, so visiting Cenote Cocalitos is a special experience. They are impressively massive here in particular, easily seen from the water's surface.
They help to filter Laguna Bacalar, which is one of the reasons it appears so strikingly blue and clear. From above, they look like ordinary mossy rocks, but up close, you can observe the intricate and fragile characteristics of these wild wonders.
Cenote Cocalitos is almost 105 feet deep, and it offers a day full of action-packed adventure. There's a boat ride option that's super popular among tourists. It's become a classic way to learn more about the cenotes in Bacalar.
---
Cocalitos Beach Club
There's even a Balneario, or beach club that makes going for a swim in these calm, warm waters super comfortable and effortless. It's on the rustic side compared to other balnearios in Bacalar, so don't expect too much luxury. However, it does have all the basic facilities needed to really enjoy this breathtaking cenote, plus a couple of cute hammocks in the water.
There is a paid public beach that borders Cenote Cocalitos. It has plenty of shade to enjoy a little lounge while enjoying the spectacular cenote views. It's also best to visit on weekday mornings to avoid the crowds of families that tend to flock here most other times.
The shallow waters are great for little kids to play in. The swings and hammocks are actually in the water, making for a perfect picture and a very relaxing way to take a dip. Instagrammers will rejoice at the stories that can be crafted from this cenote location.
The small eatery on-site has some delicious dishes, from fresh seafood ceviche to sandwiches and, of course, ice-cold cervezas. Otherwise, you can always pack your own snacks and have a little picnic to enjoy on the grass or rent a table under the cool shade of a palapa. If you are looking for a more substantial meal, check out our list of the best restaurants in Bacalar.
All in all, this is a family-friendly destination and is a favored pick for anyone with younger children in tow. The colors of the water are breathtaking, ranging from bright blues to greens and everything in between.
---
Cocalitos Hours & Admission
Hours: 9 AM to 6 PM
Admission: 50 pesos
Tours
---
Equipment Rental at Cenote Cocalitos
You can also rent plastic chairs for lounging. There's a parking lot available that's part of the entrance fee and reasonably spacious.
Kayaking is allowed here for 100 pesos an hour. It is such a fun activity paddling throughout the expansive crystalline waters and appreciating the tropical vegetation around the cenote as well. There's a charming small dock for the Bacalar boat tours, which are 1500-2500 pesos for two hours.
There are restrooms with showers and a garden campground surrounded by swaying palm trees so you can stay overnight. Sleep in this paradisical wilderness costs 150 pesos per night, and the star-filled skies above are well worth the price.
---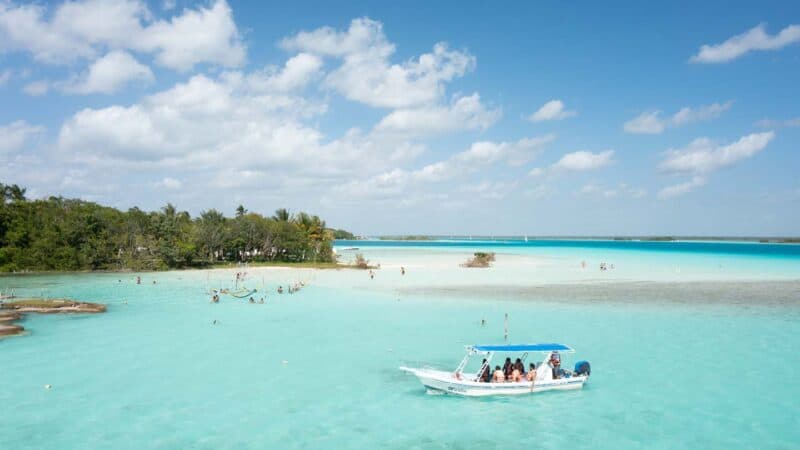 Snorkeling in Cenote Cocalitos
The waters of Cenote Cocalitos are amazingly transparent, which provides ideal visibility. Of course, getting to see the rare and ancient living creatures is the main draw here, and what better way to get up close and personal with some stromatolites than snorkeling.
Snorkel equipment is available to rent, and you can also bring your own, allowing for a more intimate encounter with these enchanting entities. Some sections are roped off to protect them, and others are free for swimming and snorkeling alongside these massive and majestic fossilite formations.
You can swim across the entire cenote and peak at the picturesque underwater world. The biodiversity of the landscape is breathtaking. It's a great option if you are interested in the area's ecology as far as the diverse flora and fauna. It's a great option as you can explore and experience the magic of this subterranean world without the added expense and skill levels needed for a scuba dive.
---
Diving in Cenote Cocalitos
Scuba diving in Cenote Cocalitos is an all-around enchanting experience. Most of the Bacalar cenotes in the region require only an Open Water diving certification. However, it's often recommended to have a good amount of previous experience before taking on an adventure such as this.
If you have dove in other cenotes like El Pit and are expecting to explore underground caverns in Bacalar, think again. None of the cenotes in Bacalar have such caves. Some cenotes have quite intricate cave systems, but not in Bacalar. If you do want to dive in cenotes, most will require more advanced certification, such as Advanced Open Water or Cave Diver specifically.
There's a general price for a single cenote dive, which usually ranges from 2,000 to 5,000 pesos. A lot of tours will offer bundle packages. Guided tours with professionals who know the cave systems are required.
The nearest dive shop is in Mahahaul, and they can arrange dives. Most people want to dive in Cenote Azul. It appears there may be a new dive shop in Bacalar called Scubacalar. We haven't dove with them, so can't really speak much about them as a company.
Related Article: Best Cenotes in Mexico
---
More Cenotes in Bacalar
Laguna Bacalar is home to several cenotes both inside and just outside of the lagoon. A few with checking out are listed below.
---
Don't forget to pin me for later!