An hour from the Belize border lies one of Mexico's hidden gems, Laguna Bacalar. We've been taking a trip to Bacalar every year since 2018. It has quickly become one of our favorite places to visit in Mexico.
Locally known as Laguna Bacalar, 'La Laguna de los Siete Colores', which in English translates to seven color lagoon or lake of seven colors. It's a stunning freshwater lagoon that is so clear it lives up to its nickname. If you didn't know any better, you would think that this place is an idyllic Caribbean seaside town.
Lots of Bacalar visitors just come for a day trip, go on a Bacalar boat tour, and leave. We highly suggest staying for at least two nights at one of the Bacalar hotels on the lake, like Hotel CasaBakal. If you can't stay overnight, we suggest this tour that leaves from Playa del Carmen and Tulum.
This is the best half-day tour and it is cheap but if you prefer a private tour this is the best private boat tour.
"Bacalar, The Maldives of Mexico"
It won't be long before you see Laguna Bacalar Mexico, popping up all over your Instagram feed. It's really that beautiful!
If you've been traveling to the Riviera Maya or the Yucatan peninsula and typically visit Cancun, Puerto Morelos, Tulum, or Playa del Carmen and are looking for a new destination – consider a few days in Bacalar in Mexico!
We've put together this complete Bacalar Mexico travel guide to answer all your questions and inspire you to add it to your Mexico bucket list!
---
Jump to info on Bacalar, Mexico:
---
Where to Stay in Bacalar
Whether you are on a luxury honeymoon in Mexico or a simple eco-chic place to rest your head, there is a hotel in Bacalar for everyone. We suggest spending three nights at a hotel in Bacalar to see the highlights and have some time to enjoy the peaceful natural beauty.
We have visited every year since 2018 and have stayed at many types of accommodation in Bacalar and around the Lake. When you search hotels in Bacalar, make sure to look at the location and if they are within walking distance to centre of Bacalar. If you don't have a car, this will be important when choosing a hotel.
Below are our top hotel picks with stunning views of the lake, good value, and great locations. We stayed at this hotel on our last trip. It was the best hotel deal I found; and it was in a good location, clean, and the price was good. It was nothing fancy. We would stay here again.
Best Hotels in Bacalar
---

Where is Bacalar Mexico?
Bacalar is in the Quintana Roo State, Southeast Mexico, and about an hour north of the border with Belize. Despite the absence of an actual beach, we think it's an awesome tourist town. Its location on the impressive lagoon shores more than compensates.
It might be less accessible than some other more popular destinations to visit in Mexico, but there are still so many incredible things to do in Bacalar. It is a great place for a vacation, whether you are traveling alone, with your loved one, or as a family.
As you can see from the above Bacalar map, it is southwest of Cancun and other common places visitors typically head to in the Riviera Maya are all several hours away on the Caribbean coast.
---
How to Get to Bacalar
You'll have to fly to a nearby airport and come by rental car, shuttle, or bus. Whatever method you choose, it's well worth the effort.
#1 Tip – Rent a car in Mexico
Have ultimate freedom and save tons of money on tours with your own rental car! Don't worry – It's safe (we've rented 20+ times), the roads are good, and it's easier than you think! We always rent from Discover Cars, it's easy & they have the best prices.
Drive to Bacalar
The easiest way to Bacalar is by renting a car in Mexico and driving yourself. If you are staying in Cancun, Playa del Carmen, or Tulum, you can easily rent a car or get a rental car at the Cancun International Airport when you fly in.
Rental cars are typically very affordable and easier than you might think. Never rent a car in person. The prices are crazy expensive. We always book online here to get the prices and not get scammed.
We have driven from Playa del Carmen to Bacalar several times. The drive was easy. The roads are well-marked and easy to follow.
Cancun to Bacalar: 4 hours 15 minutes | 345 KM
Playa del Carmen to Bacalar: 3 hours 15 minutes | 279 KM
Tulum to Bacalar: 2 hours 20 minutes | 215 KM
Private Shuttle to Bacalar
The easiest way to Bacalar is by private shuttle. Arrange a private shuttle to pick you up at the airport or hotel and bring you directly there. No need to worry about being on an overcrowded bus or worrying about driving in Mexico.
ADO Bus to Bacalar
Taking the bus in the Yucatan Peninsula and Riviera Maya is relatively easy & straightforward and way more comfortable than you think. Buses are air-conditioned with comfortable seating. You can travel to Bacalar by bus on an ADO bus.
We've had to take ADO buses dozens of times between Cancun, Playa del Carmen, and Tulum. Click here for the bus schedule and to book tickets online. Often, there are specials online, and it's cheaper to book there than at a bus station.
The bus from Tulum to Bacalar takes just under three hours and is $25 USD, book it online here. The bus from Playa del Carmen to Bacalar is just over 4 hours and $34 USD, book online here.
Fly to Bacalar
Chetumal is the closest airport to Bacalar, around 45 minutes by road. Chetumal does not have regular international flights but is served by Cancun and Mexico City. The Cancun International Airport is over four aways away.
What does the Name Bacalar Mean?
The name Bacalar is said to come from the Mayan word b'ak halal, which translates in English to "place of reeds."
Lake Bacalar takes the same name as the town but is also known as the 'La Laguna de Los Siete Colores' (Lagoon of Seven Colors) due to its many blue and turquoise hues. If you gaze across its vast waters, you'll feel like you're chilling on the shores of the Caribbean.

---
Some of our Favorite Bacalar Tours
When you roll into town, you will quickly notice all the people trying to sell you tours. Those tours aren't terrible, but they are very pre-packaged and bare-bones (and sometimes not even in English).
We've taken them, too, but here are our picks for better options!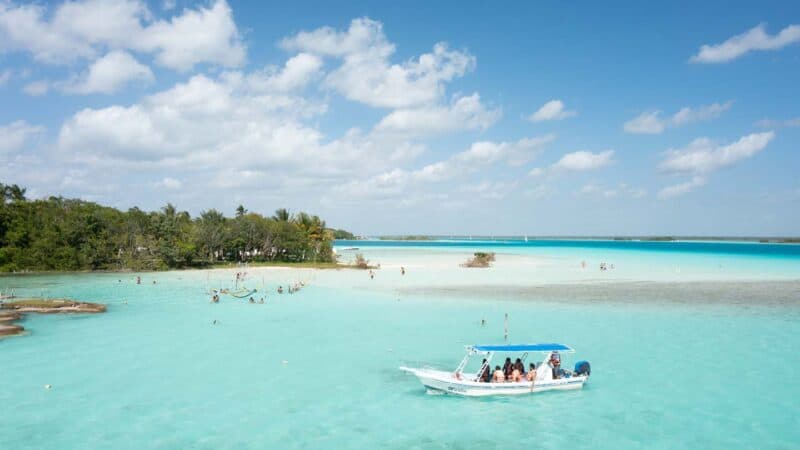 #1 – Bacalar Boat Tour with Open Bar & Snacks

This tour covers all of the highlights of the Bacalar Lagoon with a fun and informative guide – bonus snacks and an open bar!
#2 – Bacalar by Sail Boat
All aboard for a fun afternoon of sailing on a luxury sailboat around the lagoon with several stops to check out Bacalar's amazing cenotes and scenery!
#3 – Sunrise SUP
Take in the peaceful sunrise aboard a SUP with a relaxing tour with a local guide. There is no better way to start your day in Bacalar!
---
Things to Do in Bacalar Mexico
You'll never run out of ways to fill your days. Much of the appeal is Bacalar Lagoon – firstly because it's stunning, but also because of the activities it provides for tourists.
Here are some of our favorite things to do in Bacalar both on and off the water

1. Take a Boat Tour of Bacalar
It would be a crime to visit without venturing out onto Bacalar Lagoon. It's a great way to relax and enjoy the wonderful surroundings for a few hours. The waters are wonderfully clear, with the lake's white limestone bed. The pristine base helps emphasize the clarity of the water even further.
The typical boating route includes visiting the channels used by pirates centuries ago and time spent exploring the mangroves. There is the chance to swim and snorkel and keep an eye out for birdlife. The boat trip includes much-needed refreshments and is crewed by an experienced captain, guide, and service staff. As a nice bonus, the boats are eco-friendly, avoiding damaging the environment as they sail.
It's a great day out, and if you enjoy sunsets – who doesn't – you should time your trip to be on the lake as the sun dips behind the horizon.
If you book a Bacalar boat tour in person, make sure you find out if it's in English or Spanish. There are tours in both languages; typically, they don't speak both. Click here to see all the Boat tours.
We'd suggest booking in advance online. We found it stressful trying to book in person and finding a tour with an English-speaking guide.
---

2. El Canal De Los Piratas
One of the most stunning sections of Bacalar Lake is known as the Canal de Los Pirates. Here, a thin, shallow strip of water runs through the land as the colors are out of this world.
There are also a few old structures to jump off of into the beautiful lake. It's a great place to spend an afternoon and is usually included with most boat trips.
On the center island, you'll see the remains of a failed restaurant. The old cement walls are now covered with murals and add an interesting contrast to the natural beauty that surrounds them.
Related Article: Things to do in Cancun
---
3. Stand Up Paddleboarding
Why not try paddleboarding if you prefer to travel using your own steam? Once you've managed to find balance on your board and can actually stand, you can enjoy the serenity of the Lagoon in almost complete silence, other than the sounds that nature creates and chatter from any guide you might bring along.
There is plenty to see in these lovely blue waters. Glide over the Black Cenote – an open sky cenote that is found in one of the deepest parts of the lake.
Companies who organize these tours provide you with light refreshments, and you might like to have a Sulphur mud pack on your face from the rich mud at the bottom of the lake. You'll arrive back to shore at the end of the day glowing, both from the mudpack and the refreshing peace of the lake.
3. Float Down Los Rapidos Bacalar
One of the most unique things to do in Bacalar is float down Los Rapidos. In a section of Bacalar Logoon is Los Rapidos also known as Bacalar Rapids. It is a small narrow channel between two sections of the lake that you can float down like a lazy river.
It is a great place to spend a few hours or an entire day. There are beach loungers and hammocks in the water to relax in. If you have a travel drone, you can get amazing drone pics from above!
There is an entrace fee to enter, kayaks to rent by the hour, restaurant and bar, showers, lockers, and parking lot. You will need to drive here or take a taxi, it is 13 km south of Bacalar.
---

4. Kayaking in Bacalar Lagoon
Why stand up when you can sit down? Yet another way to see the epic lake is to rent a kayak and drift slowly and silently over its waters. Kayaking requires minimal tuition and is perfectly safe, even for a complete novice.
If you're a little nervous, make sure the waters are calm before you set out. We rented kayaks here online for the full day at a great price.
Related Article: Things to do Cozumel
---

5. Cenote Azul
Cenote Azul is a deep well in Laguna de Bacalar. Over time, erosion creates caves and then modifies them. At over 90 meters deep, Cenote Azul is a must for experienced scuba divers visiting Bacalar and some visitors, one of the major reasons for coming in the first place.
Found close to the road as you head into Bacalar Central, it's beautiful, resembling a small lake with a forest around its edges. Make sure you bring along a guide who's familiar with the area.
If you're spending more time in the Yucatan, check out some of our favorite cenotes in Mexico. There are over 6,000 cenotes in Mexico, so you're never far from one!
Related Article: Where to Stay in Tulum – Read before booking accommodation
6. Hang out at a Bacalar Beach Club (Balnearios)
If your hotel is located on the lagoon, head to one of the local balnearios to spend the day on the water. They are similar to beach clubs as they typically offer food, drinks, and a great place to relax and spend the day.
Some have an entry fee, and some beach clubs have a minimum consumption spend per person.
Here are a few popular beach clubs in Bacalar to consider:
Bacalar Beach Club
Beach Club Blu
Bertilla Lagoon & Beach Club
Update: Cenotes Cocalitos was one of our favorite beach clubs, but according to Google, they are permanently closed. We will update if this changes.
---
7. Explore the Ruins of Kohunlich
The ruins of the Mayan City of Kohunlich are about an hour away from Bacalar. This is a lesser known and visited Mayan Ruins in Mexico. We suggest this tour to Dzaibanche and Kohunlich ruins from Bacalar that includes transportation and lunch.
You'll see moss blanketing the land and temples that once stood proudly on it. Found just over a century ago by Raymond Merwin, they date back to 200 BC. Most of the buildings, however, were constructed between the 3rd and 7th Centuries.
Among the most interesting buildings is the Temple of the Masks – a pyramid – the oldest of Kohunlich's buildings that have been excavated. Five of the original eight masks, each eight feet high, remain today.
The 27 Steps is a platform where it is thought some of the city's most impressive homes once existed, but the highlight is the enchanting view you'll get over the jungle. Some of the engineering used is impressive, most notably the means of channeling rainwater into the reservoir.
Related Article: Top Mayan Ruins in Mexico To Visit
---

8. Fort San Felipe
Fuertes San Felipe is a beautiful stone structure near the town square. There's an impressive, deep moat around the Fort, which has ramparts to get great views over the lagoon. Take a look at the canons and the Costa Maya Museum, where you can see historical exhibits and murals depicting the history of Bacalar – including its pirates.
There are muskets, navigational instruments, sabers, and models of the boats that sailed these waters during the 17th Century. There's also an awesome pirate skeleton on display, found when they excavated the Fort. It is thought to be centuries old.
San Felipe Fort is open six days a week, and if you're looking for a bit of culture and education, there is a program of lectures that may interest you. Take a look at the calendar of events when you arrive.
9. Take a Bacalar Sign Photo
In the heart of town at Bacalar park is the colorful Bacalar sign, which is a great photo stop. Offer to take someone's photo and they usually will return the favor.
---

10. Just lounge on the docks
Surrounding Laguna Bacalar are many docks with thatched palm huts at the end, some even with hammocks. Spend some time just staring at this beautiful lagoon and seeing how many different shades of blue you can count!
There are several hotels that have docks out over the lagoon. This was one of my most when I was picking a hotel, as I knew I wanted to wake up with a lagoon view and lounge in a hammock over the water.
11. Wander Around Town
If you are an early riser or like to go for a morning walk, consider getting up early to watch the sunrise over the lagoon and then wander around town.
Early in the morning is when you see the town wake up and what life in Bacalar for locals is like. Watch restaurants get early morning delivieres and start opening up their shops for the day. Watch school kids make their way to school.
12. San Joaquin Parish Church
Parroquia de San Joaquin near the Plaza Principal in Bacalar was built in the 18th Century. It is one of many landmarks in the town. Wander around and check out the House of the International Writer, the House of Culture, and the Main Plaza too.
13. The Fair of San Joaquin
The Annual Fair in Bacalar takes place during the first two weeks of August. If you're flexible on the dates you can visit, consider coming during these two weeks. The event includes music, entertainment, and all kinds of races.
There's a program of events throughout the year in Bacalar, so even if you can't visit in August, there is a good chance of something happening – such as an open-air concert – when you visit Bacalar.
---
Best Restaurants in Bacalar Mexico
Unsurprisingly, fresh fish is regularly featured on local menus. Restaurants specialize in locally-produced ingredients and fully cater to vegetarians and vegans.
There are so many great restaurants in Bacalar to choose from, but here are three that we think you should try when visiting Bacalar.
1. El Manati Bacalar
This restaurant on Calle 22 – between Avenida 5 and 7 – has tables in charming garden surroundings. It's open for breakfast and lunch. The menu is extensive, and wherever possible, all ingredients are sourced locally.
The house specials include a vegetarian burger, while eggs are served in several different ways. If you simply want a lunchtime snack, go for one of their delicious paninis or salads. There's a range of smoothies, fresh juices, coffee, and some extremely tempting desserts. The restaurant also has a shop and art gallery with an emphasis on fair trade products and local crafts.
2. Kai Pez
Kai Pez on Calle 20 offers you the chance to soak in the stunning views over the lake as you eat. It's impressive at any time of the day, but sunset is probably the best time of all. The menu includes some mouthwatering fresh fish – available for lunch or dinner.
There are a few typical Mexican dishes, with Tacos de Cochinita being the regional specialty, as well as shrimp and tuna, which you can enjoy with a salad or as a burger. Empanadas de Chaya, with its gouda cheese, is another dish worth a try!
3. Los de Atlixco
If you're looking for a cool place to have lunch away from the heat of the day, Los de Atlixco is the place to go. Open for breakfast, lunch, and dinner. It's a great place to relax after a hectic day exploring.
We dined for breakfast before getting out on the boat for the day. Los de Atlixco can cater to large groups and has a hip outdoor seating area. If you want a hearty meal before setting out for the day, Los de Atlixco has gained a reputation for a very filling and tasty breakfast.
---
Weather in Bacalar
The weather has temperatures around 86 degrees all year round, only falling to 68 degrees at night – so you can soak in the sun all day and sleep like a baby in the cooler evenings.
Between November and May, there are largely cloudless skies and little rainfall, certainly not enough to spoil a trip. The Bacalar sunshine will make the colors on the lake pop way more. If you have a cloudy day, you most likely won't see all the shades of blue.

7 Shades of Blue in Laguna Bacalar Mexico & why it's special!
The lake so much to offer those wishing to swim, sail, or try out various watersports. But what makes Laguna Bacalar even more special is the watercolor.
The lagoon of Bacalar is known for its seven shades of blue water. In Spanish, it's known as Laguna de Los 7 colors, and the colors range from pale shades of baby blue to aqua to deep royal blues.
Qualified scuba divers will find plenty of spots to explore. With the added bonus of the unique history associated with Bacalar and the delicious food available, your time in Bacalar is guaranteed to leave you well-refreshed by the end of your vacation.
Mexico's Department of Tourism named Bacalar a Pueblo Magico (Magic Town) in 2006, one of a number of lesser-known towns given such a title in recognition of its importance to the country's tourism industry. The town still attracts more Mexicans than foreign tourists, so it is great for tourists who seek off-the-beaten-track destinations – you'll feel like you're visiting real Mexico.
With fewer crowds, it's easier to enjoy Bacalar Lagoon Mexico, and do so without breaking the budget.
After a vacation in Bacalar, you may be faced with a tough choice – should you tell anyone else about this magical place or keep it to yourself?! Another one of our favorite places in Mexico that is not yet on the radar is Isla Holbox. Trust us, it's amazing.
---
History of Bacalar
This was a Mayan Region well before the Spanish arrived in the middle of the 16th Century and was a regular target for pirates who sacked it in the middle of the 17th Century. When Fort Felipe was built in 1733, it provided some protection from incoming pillagers.
Mexico has a well-developed tourist industry. In the early days, it was Acapulco on the Pacific Coast that caught the attention of travelers. At the same time, in the '90s, small villages like Cancun expanded into resorts offering top-quality hotels facing out into the Caribbean, catering to the party crowd.
Bacalar may be a late developer in Mexico's tourist trade, but in some ways, that is to its advantage. Bacalar can offer an authentic Mexican ''feel'' that is unlikely to disappear any time soon. Combining some historical gems with a wonderfully unspoiled natural environment, it's ideal for travelers who simply want to relax during their time in Bacalar, Mexico.
---
Do you have any questions about Bacalar that we missed? Leave a comment below, and we'll try and answer them for you and update our complete travel guide 2023 to be even better.
Don't Forget to Pin me for Later!
---
Places in Mexico to Visit Before or After Bacalar
If you've got more time to explore Mexico, there are some beautiful places in Mexico nearby you should check out. If you can't it on this trip, consider them on your next trip. Make sure to check out some of our other Mexico articles to fuel your wanderlust.
Is Isla Holbox worth the trip? YES! Holbox Mexico is one of the best places in Mexico to visit. Skip Tulum! 2023 Complete Holbox guide with things to do in Holbox, best restaurants, where to stay, how to get to Holbox, and more.
Don't rent a car in Cancun without reading this first! Cancun car rental guide: driving in Mexico tips, common scams, what to do if police pull you over, best rental car company, and more
Over 6,000 cenotes in Mexico, guide to the best cenotes in Tulum, Playa del Carmen, Merida & Cancun. Cenote map, entrance fees, hours & more.