Staying in an overwater bungalow no longer requires a 20+ hour flight to Tahiti or the Maldives! Sandals St Lucian Grande overwater bungalows opened May 15, 2017, and we were lucky to be some of the first guests to stay in them. Make sure to book online in advance, they will sell out fast!
Check Prices & Availability Now
Sandals Grande St. Lucian Overwater Bungalows Room Tour Video
---
Reasons why we love the Caribbean Overwater Bungalows
There are 3 Sandals Resorts in St.Lucia but the Sandals St Lucian Grande overwater bungalows are our top pick and here's why.
Overwater Bungalow Rooms Glass Floor
Inside the overwater bungalow rooms, the main attraction is the HUGE glass floor looking down to the ocean. At night turn on the "fish light" to watch the fish swim by all night long. In the morning have the butler bring you breakfast in bed with a unique view.
Outdoor Bathtub & Shower
Rinse off the salt water in the outdoor shower or soak in the huge outdoor bathtub. We highly recommend relaxing in the tub with a glass of wine looking at the stars and hearing the ocean waves.
Related Article: Traveling With A Drone Oh So Worth It

Hammocks Over the Ocean
The perfect place for an afternoon nap is on the hammock on the deck above the ocean.
Related Article: Rated: The Best Sandals Resorts
#Suitelife Butler Service
Each Sandals Resort overwater bungalow comes with a personal butler. You'll be provided with a smartphone so your butler is always just a phone call away.
The butlers at Sandals Resorts are amazing and make your stay extra special. The Sandals butlers will do just about anything, our butler unpacked us, ironed our clothes, made our dinner reservations, escorted us to dinner, brought us room service, and they even blew up my 8-foot unicorn float.
Room Service
Rooms service at Sandals is available in several room categories but the overwater bungalow rooms have a special 5-star menu. Have you ever seen filet mignon & tiger prawns on a room service menu?
Top shelf liquor
Inside each Sandals overwater bungalow is a mini bar area with top-shelf liquor including Grey Goose, Hendricks, Appleton 12 year, and of course the butler can bring you anything you'd like to drink.
Wifi that works in the room
We've stayed in overwater villas before where the resort's wifi didn't reach our room. Our wifi was going strong the entire stay, we were even able to do a Facebook live tour.

Gorgeous White Sand Beach
Sandals St Lucian Grande has a gorgeous white sand beach that just steps away from the overwater bungalows.
---
Sandals St Lucian Grande
It will be hard to leave the overwater bungalow suites, but make sure to check out the great swim-up bar and pools. You could easily have room service delivered for every meal but there are some amazing restaurants to check.
Our favorite restaurants at Sandals St. Lucian Grande were Gordan's on the dock has a great surf & turf, Soy has amazing sushi, and the Jerk Shack is a must (get extra volcano sauce).
There are three Sandals properties with overwater bungalows in the Caribbean: Sandals St. Lucian Grande, Jamaica Sandals Royal Caribbean, and Sandals Royal Caribbean (Montego Bay, Jamaica) which would be great for a honeymoon in Jamaica.
In case the St. Lucia overwater bungalows are sold out, check to see if there are any Jamaica overwater bungalows open. No matter which property you end up you'll have an amazing time.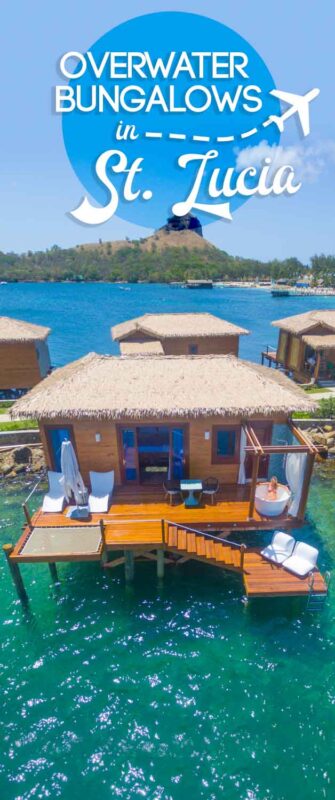 **Thanks to Sandals for invited us to check out the rooms before opening May 2017. As always all opinions are our own. *
This post may contain affiliate links, see our disclosure